The word pizza is Italian for pie, The common belief is that Italians invented pizza, but a baked bread with toppings has many other precursors in other cuisines. Italy's version of the dish, especially from Naples, is the one we are most familiar with, though Pissaladière from Provence, Coca from Catalan, and Lahma bi Ajeen from the Middle East all bear a remarkable resemblance to pizza.
Supposedly, this archetypal pizza (classic, typical), an open-faced pie slathered in tomato sauce and mozzarella, was ushered in by the baker Raffaele Esposito in Naples. In 1889, he made a patriotic pie topped with mozzarella, basil, and tomatoes, ingredients of the colors of the Italian flag, in honor of King Umberto and Queen Margherita's visit. It is rumored the Queen enjoyed the pie, and thus, it became known as a Margherita. In the end, Margherita Pizza and Caprese Pizza are the same.
You can freeze this whole wheat pizza dough. After the dough rises, put it in a freezer bag, squeeze out the air, and freeze for up to three months. When you are ready to use, just let it defrost and you can roll it out! I always have a few pizza dough balls in the freezer for when we are craving pizza, use this dough to fill it with whatever your heart desires… Homemade pizza is so much better than ordering pizza, give it a try and believe me you won't regret it!
Ingredients for Pizza Dough:
1 cup warm water (110 degrees F)
2 1/4 teaspoons (one 1/4 oz packet) Active Dry Yeast
1 teaspoon granulated sugar
2 1/2 cups whole wheat flour (we use white whole wheat flour)
1 tablespoon olive oil
1 tablespoon honey
1 1/2 teaspoons Kosher salt
Directions for Pizza Dough:
1. In the bowl of a stand mixer, combine warm water, yeast, and sugar. Stir and let sit until the yeast starts to foam and bubble, about 5-10 minutes.
2. Using the dough hook, turn the mixer on low and slowly add half of the flour, olive oil, honey, and salt. Add the remaining flour after mixture is well combined. Once dough starts to form, increase speed to medium. Mix for 3-5 minutes, until dough is smooth.
3. Remove the dough from the mixer and place on a floured counter. Knead a few times to form a ball. Dough should be smooth and shiny. Place dough in a greased bowl, cover loosely with a towel, and let rise for 30 minutes.
4. When ready to bake, preheat oven to 450 degrees F. Roll dough into a 14 inch round. Place on a pizza pan or pizza stone. Spread with desired sauce and toppings. Bake for 16-20 minutes or until crust is golden brown. Remove pizza from oven and let cool for 5 minutes before slicing.
Ingredients for Caprese Pizza:
1 recipe homemade pizza dough or store-bought pizza dough
1 tablespoon olive oil
8 oz fresh mozzarella, sliced
2 large ripe tomatoes, sliced
Salt and black pepper, to taste
Handful fresh basil, chopped
Balsamic Glaze (you can also make it)
For the balsamic reduction:
1 cup balsamic vinegar
1. While the dough is rising, make the balsamic reduction. Pour balsamic vinegar into a small saucepan, bring to a boil over medium-high heat. Reduce heat to medium-low, and simmer until the vinegar has reduced to 1/4 cup. Set aside, and cool to room temperature.
Directions for Caprese Pizza:
1. Preheat oven to 450 degrees F. If using refrigerated pizza dough, remove dough from refrigerator and allow dough to come to room temperature while oven is preheating.
2. Place pizza dough on a lightly floured surface. Roll pizza dough out into a circle. Make a thicker crust along edges of pizza. Brush olive oil evenly over the dough. Arrange mozzarella slices evenly over dough and top with sliced tomatoes. Season with salt and pepper, to taste. Sprinkle basil over pizza. Place in preheated oven and bake for 10-12 minutes or until crust is browning and cheese is bubbly.
3. Remove pizza from oven and drizzle with balsamic glaze. Cut into slices and serve warm.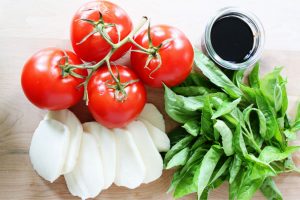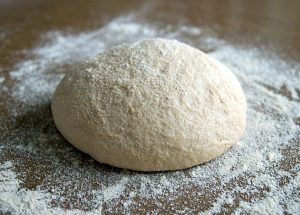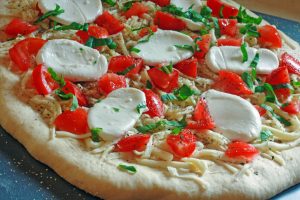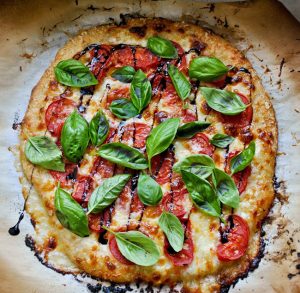 Save