Atayef (kataif or قطايف) are thin and lacy stuffed Arabic pancakes that are cooked only on one side. Atayef is the general name of the dessert as a whole, but more specifically, the batter. The result of the batter being poured onto a hot surface appears similar to pancakes, except only one side is cooked and the other side is folded over a variety of fillings. The pastry is filled with either unsalted cheese, cream (Ashta) or chopped nuts. It is then deep-fried or, less commonly, baked and served with a sugar syrup.
I don't use the baking or frying methods however, I fill the cooked batter with a nut or cooked cream filling (ashta) then drizzle them with simple syrup before serving.
Back home, you can go to a pastry shop and buy Atayef already prepared and filled to order however, in the States, these specialty shops are not available and it's best to make these delicious pancakes at home anyway!
Ingredients: The Batter:
2 cups all purpose flour
1/4 cup semolina
1/4 cup sugar
4 teaspoons baking powder
3 cups warm water
Put the flour and semolina into a large bowl. Mix in the sugar and baking powder. Pour in the water gradually and beat vigorously with a whisk. The batter should be creamy and pourable. Cover and leave aside to rise for 1 hour. Spread a clean lint-free tea towel on a cookie sheet and set aside. Heat a nonstick heavy-bottomed frying pan or a pancake grill. Whisk the batter a little before ladling 1/4 cup in the pan to make 4-inch disks. Cook only on one side. Do NOT flip them. Bubbles will start to form; they are ready when there are no more shiny wet spots on the top (about 1-2 minutes). Place each atayef, browned side down on the tea towel and cover it well to prevent drying. This step is very important as it will soften the atayef making it easier to stuff and seal and it will prevent it from splitting when you fill it.
Walnut Filling:
1 cup walnuts, chopped coarsely
5 Tbsp sugar
Zest of 1 orange
2 Tbsp orange blossom water
1 teaspoon rose water
To prepare the walnut filling, mix walnuts, sugar, zest, rose water and orange blossom. Set aside.
Cream Filling or Ashta:
2 cups half-and-half
3 Tablespoons sugar
1/3 cup plus 2 tablespoons cornstarch
1/2 cup water
1 Tablespoon rose water
1 Tablespoon orange blossom water
1/2 cup ground pistachios, to garnish
To make the ashta, add the half-and-half and sugar to a saucepan and heat over medium-high heat, stirring occasionally so it doesn't burn. Meanwhile, mix together the cornstarch and water until smooth. When the half-and-half mixture starts bubbling, whisk in the cornstarch slurry and keep whisking until very thick. Remove from heat and whisk in the rose water and orange blossom water. Pour into a bowl or tupperware and top with plastic wrap, pressing the wrap to the surface of the filling (to prevent a skin from forming). Cool completely and refrigerate until needed (it will continue to firm up in the refrigerator).
Sugar Syrup:
1 1/4 cups sugar
3/4 cup water
1 1/2 tsp. lemon juice
1 tsp. rose water
1 tsp. orange blossom water
To make the syrup, add the sugar and water to a saucepan and heat over medium-high heat, stirring occasionally. When the mixture boils (and becomes transparent), add the lemon juice and slightly lower the heat to maintain a gentle boil. Cook for 4 to 5 minutes longer to thicken it slightly. Remove from heat and mix in the rose and orange blossom water. Set aside to cool. This syrup will keep well in an air-tight container at room temperature until needed.
Method to fill the Atayef:
Remove ashta from the refrigerator and whisk it to smooth it out a bit (it will be very thick).
Fill the ashta into a pastry bag fitted with a large round tip (or into a disposable pastry bag cut at the end).
Take each pancake with the uncooked side facing up and fold it into half round, pressing together the edges from the center to one end, leaving about half open for filling. The edges should stick easily with enough pressure.
Pipe the ashta into each of the pancakes filling it fairly generously.
Dip the exposed ashta of each atayef into crushed pistachios to finish or sprinkle the pistachio on top of the ashta.
Alternately fill some atayef with the walnut mixture and close firmly each piece to prevent the filling from falling out.
Serve the atayef with the syrup for drizzling.
Atayef are best the day they're made, but leftovers can be stored in the refrigerator for about a day before the texture starts to change.
Bon Appetit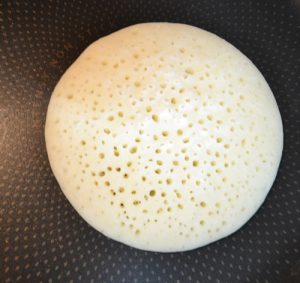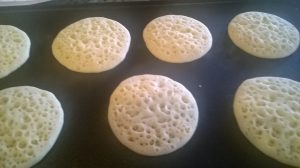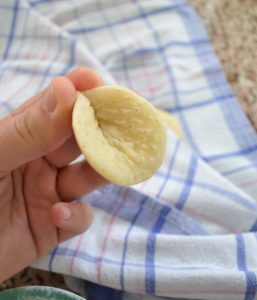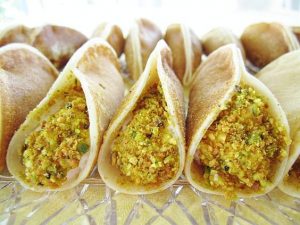 Save
Save