Mulukhiya is a well-known vegetable in most countries of the Middle East, East and North Africa. Mulukhiyyah is rather bitter, and when boiled, the resulting liquid is a thick, and sometimes described as "slimy" if not cooked properly. Mulukhiyyah is generally cooked with chicken or at least chicken stock for flavor. It is served with white rice, a mixture of red wine vinegar and chopped onions over toasted pita chips.
Lebanese Mulukhiya differs from its Egyptian counterpart because the whole leaves are used and not chopped. Each country in the Middle East has its own version for Mulukhiya. I am sharing the Lebanese one here. Many cooks use the fresh Mulukhiya leaves instead of the frozen ones. Fresh leaves have to be well cleaned of all sand residues, and dried before cooking. For the sake of time, I usually use the frozen leaves that are readily available at any Middle Eastern grocery store around the country.
Ingredients:
1 3 pounds whole chicken, skin on
1 large onion, halved
1 cinnamon stick
1 bay leaf
4 cardamon pods
10 cups water
1/2 fresh lemon
Salt and black pepper to taste
Method to cook the chicken:
In a large pot, cover the chicken with water over high heat.
Add the cinnamon stick, onion halves, cardamon pods, 1/2 lemon, and bay leaf. Bring to a boil.
Simmer over low heat until the chicken is cooked through, about 45 minutes.
Transfer it to a platter to cool, remove skin and pull the chicken apart into small pieces, keep warm.
Strain broth and reserve.
Ingredients for the Mulukhiya:
2-3 packages frozen Mulukhiya leaves equivalent to 6-8 cups of fresh leaves.
1 bunch of fresh cilantro, chopped
8-10 garlic cloves, chopped
1 medium onion, chopped
1/4 cup of dried coriander
1/2 teaspoon black pepper
Dash of cayenne pepper (optional)
Salt, to taste
1/4 cup light olive oil
1/4 cup butter
Method:
Heat the butter and olive oil in a pot and saute the chopped onion and garlic for 4 minutes. Then add the cilantro.
Throw in the Mulukhiya and cook for about 5 minutes.
Season with salt, peppers, coriander and the reserved chicken broth.
Bring to a boil, skim the froth off of the mulukhiyah surface.
Drop the shredded chicken pieces and cook for a few minutes.
Serve the prepared Mulukhiya over a bed of white rice and toasted pita chips.
Top with a mixture of red wine vinegar with chopped onions.
Serve and enjoy. It is very yummy!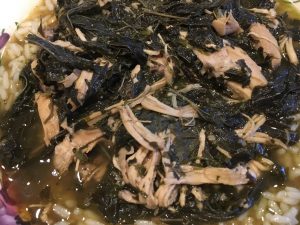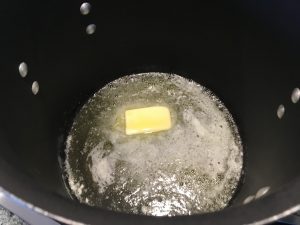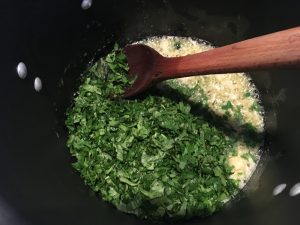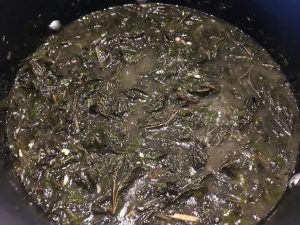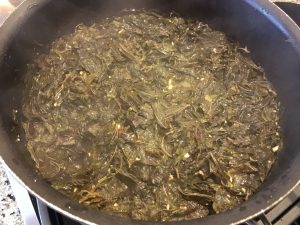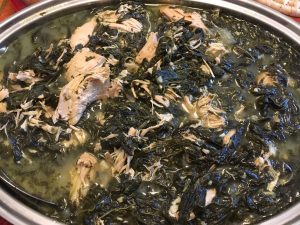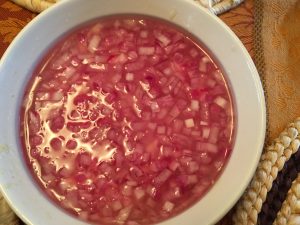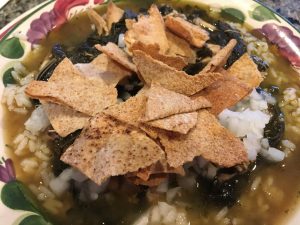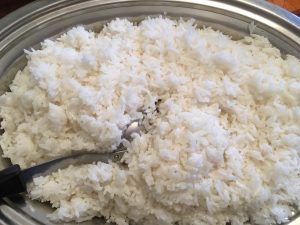 Bon Appetit 🙂