Puff pastry is a flaky light pastry containing many layers of dough and folded multiple times to create layers. It is usually used to make Palmiers, Napoleons, Turnovers, Vol au Vent and many more recipes.
I never attempted making puff pastry from scratch before especially that it's readily available at all supermarket, however, I recently enrolled in a French pastry course to improve my skills and this was one of our projects!
Needless to say that this version tastes better than the store-bought version! You will feel your hard work with every bite and your effort will be rewarded with accolades!!!
This is the Quick Puff Pastry version recipe and it will yield 1 lb 12 oz (784g). You can make it by hand, however, it's always easier using a standing mixer.
Ingredients:
16 oz 454g All-purpose flour
12 oz 336g unsalted butter, room temperature
1 tsp salt or 5 g
8-9 oz ice water / 224-252g
Method:
Mix flour and salt together with paddle attachment.
Mix in all of the butter at once, covering all the pieces with flour.
As butter works into the flour, start adding water to bring dough together. You want large pieces of butter to be visible in the dough- do not overmix.
Turn dough onto a slightly floured board and mix by hand to distribute water. The dough will be rough and coarse.
Complete 6 turns (single, double, single, double) resetting and chilling dough between each turn. Dough will have visible chunks of butter for the first several turns and then will smooth out in appearance.
You have to keep in mind of 2 important facts when making Puff pastry:
Keep the butter cold but pliable (The butter in puff pastry presents a bit of a challenge: you want it to be cold so it stays solid and doesn't melt into the dough, but you also need it to be pliable so it can be rolled out without breaking into pieces.
Turning the Dough means rolling out the dough, folding it up, and rolling it out again. One round of rolling out and folding up is called a "turn" and you do six of them in total to make puff pastry. To make sure the butter stays cool, refrigerate the dough for 30 minutes every two turns — or between every turn if your kitchen is very warm.
Chef Boman is demonstrating how to make and work with Puff Pastry.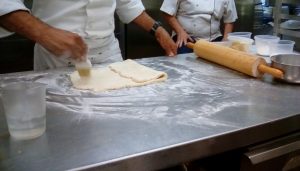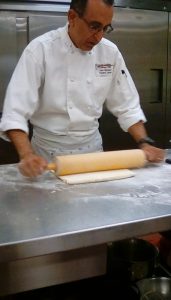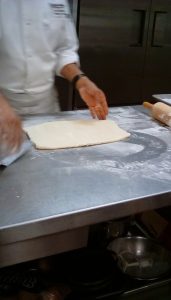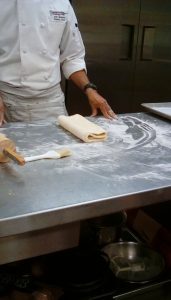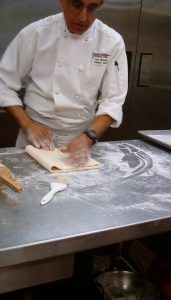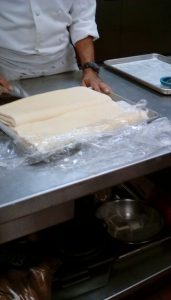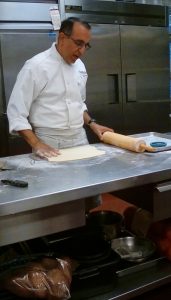 Cutting / Shaping & Baking:
Roll dough to 1/8″ thickness.
Cut to the desired shape with a sharp knife, biscuit cutters or a pastry wheel using firm, straight down motion (you want to prevent collapsing layers by pushing them together).
Fill as desired with jam, almond cream, fruit compotes….
Cover with egg wash.
Refrigerate until firm before baking.
Bake at 375 degrees F.
Top will brown and dough will rise.
Raw dough can be frozen after completing at least 3 turns or after shaping. Defrost in the refrigerator a minimum of 2-3 hours or preferably overnight.
Raw dough can keep in the refrigerator for 2 days only.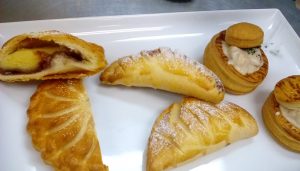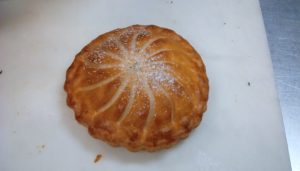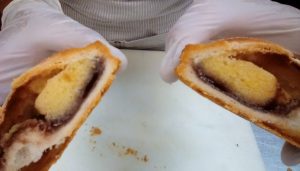 This is what we made tonight, Chaussons Aux Pommes, Vol Au Vent with Chicken & Mushrooms and Pathivier with Almond Cream.
I will share these recipes in the next post.
Bon Appetit!