The older I get, the less interest I have in eating red meat and chicken. I try to come up with recipes using vegetables in season and one of my vegetables of choice is Aubergine (eggplant)!!!
Ingredients:
3 medium size eggplants
2 large onions
2 red peppers
2 green peppers
1 tablespoon tomato paste
1/3 cup olive oil
Salt, black pepper, cayenne pepper (optional)
1/2 teaspoon dried oregano
Sprigs of mint or parsley for garnish
Method:
Preheat oven broiler on high.
Wash the eggplants and peel strips off of them.
Slice them into 1/2 inch thickness, lay them on a baking pan you already sprayed with vegetable oil.
Sprinkle the eggplants with salt and pepper.
Place the baking pan on the oven lower rack and broil the eggplants until they start changing color, turn them over to broil the other side. Watch carefully not to burn.
Once done, place the pan on a cooling rack.
Preheat oven to 400 degrees F.
In the meantime, chop the onions thinly and sauté with olive oil in a pan for 3 minutes over medium heat.
Add the chopped peppers and sliced tomatoes. Sauté for 5 more minutes over low heat.
Add the tomato paste, oregano, salt & pepper. Mix well. Move off the heat.
Place olive oil in the bottom of a baking dish, lay some eggplants to cover the bottom, add some onion mixture, repeat with another layer of eggplants then sauce as if you're making lasagna.
Drizzle olive oil over the dish before baking for 15-20 minutes.
Move out of the oven, sprinkle chopped parsley or mint over it and serve.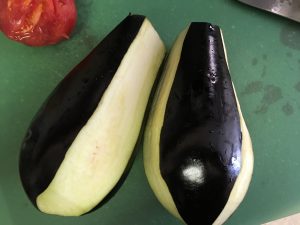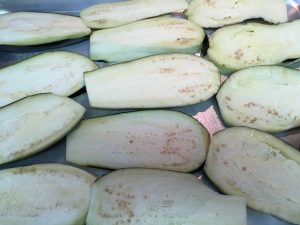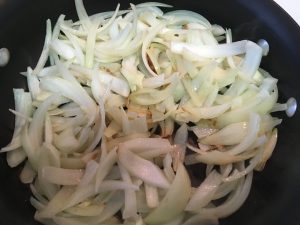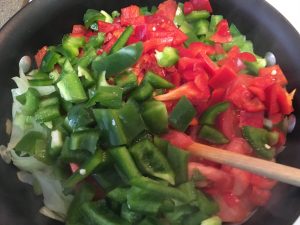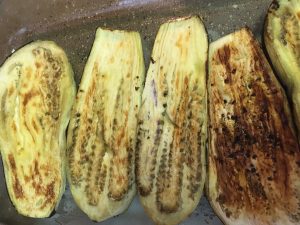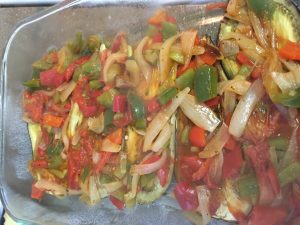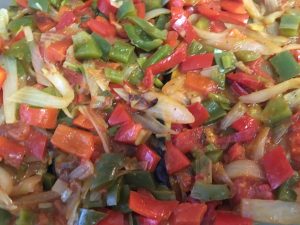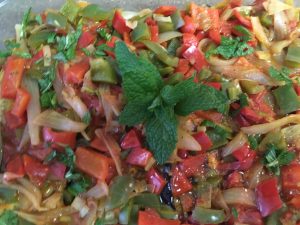 Save
Save
Save
Save
Save
Save
Save
Save
Save