For people who like Namoura or Basbousa, this cake comes highly recommended. It's made with semolina (farkha) and not farina (smid) that a traditional namoura is made with.
Ingredients:
3 cups semolina
1 stick unsalted butter
1 cup milk, warmed
1 teaspoon baking powder
1/2 teaspoon baking soda
1 1/2 cups sugar
1 cup desiccated coconut
1 tablespoon rose-water
1 teaspoon virgin coconut oil
For the topping:
1 cup sliced almonds, toasted
1 1/4 cup simple syrup (recipe below)
Method for the simple syrup:
We use 2 parts sugar to 1 part water for this recipe.
In a high-sided saucepan over medium high heat, bring 1 cup cold water and 2 cups sugar to a boil.
Turn the heat to low and stir constantly until the sugar dissolves completely and the mixture is clear.
Add 1 teaspoon freshly squeezed lemon juice and allow the syrup to boil for 3-5 minutes.
Remember, the longer you boil it, the thicker the syrup will be when cooled.
Set it aside to prepare the namoura cake.
Method for the Cake:
Preheat oven to 400 degrees F.
In the bowl of a standing mixer, combine sugar, semolina, coconut, rose-water, baking powder and baking soda.
Add the softened butter and the milk.
Keep mixing for 2 minutes.
Spread 1 teaspoon virgin coconut oil in the bottom of a round pan and cover bottom and sides well.
Pour the semolina mixer in the pan spreading it evenly.
Bake at 400 degrees for 10 minutes then lower the temperature to 350 degrees for 25-30 minutes or until the  namoura turns golden.
Remove from the oven;  using a ladle pour 1 1/4 cup cooled simple syrup and the toasted almond over the cake.
Let cool then serve to your family and guests.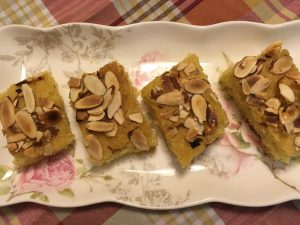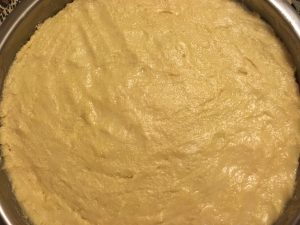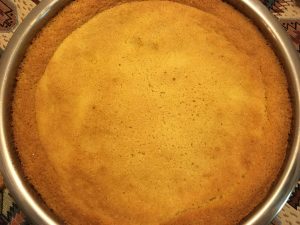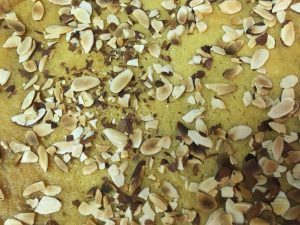 Bon Appetit!