I love Pasta Puttanesca because it tastes fresh and it is vegetarian. Very simple and fast to make.
Ingredients:
2 Tablespoons olive oil
1/2 cup minced onion
3 cloves garlic chopped
3/4 cup pitted olives green or black
2 Tablespoons capers
1/2 teaspoon red pepper flakes
1 can (28 oz) crushed tomatoes
1/3 cup fresh parsley
Salt & pepper to taste
Grated Parmesan cheese for garnish
Method:
In a large skillet heat the oil and add the chopped onion. Saute until translucent then add the garlic, olives, capers, red pepper flakes , oregano, salt & pepper. Cook for 7-10 minutes over medium heat and serve over pasta.
Garnish with chopped parsley and grated Parmesan cheese.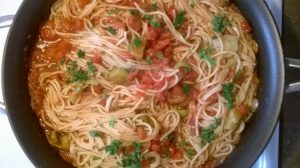 Really yummy. I hope you like it.
P.S: I don't buy canned goods especially tomatoes because of their high sodium content. I make my own and usually have plenty of it in the freezer. It's very easy to make and I will share my recipe soon.
Bon Appetit