Knafeh is a Middle Eastern cheese dessert soaked in sugar syrup. It is usually served for breakfast over a sesame seed bun. There are so many recipes for Knafeh and this one was given to me by my friend Abir. I tried it and fell in love with it because the result was amazing!!!
Farik is the top crust of the Knafeh; it's the one that becomes golden when baked and inverted over a cake plate. This recipe makes 2 large Knafeh size round pans. For best results, use pans with low edge.
Ingredients for the Farik:
4 cups all purpose flour
1 cup farina
2 cups unsalted butter, room temperature
2 cups sugar syrup, concentrated (prepared in advance) see below.
1/4 cup powdered milk
1/2 cup water
1/4 cup chopped pistachio nuts for garnish, optional.

Method to prepare the sugar syrup:
Combine 4 cups granulated sugar and 1 1/2 cup water in a sauce pan.
Heat through till dissolved.
Add 1 tablespoon fresh lemon juice and simmer for 10 minutes.
Boil mixture till thickened.
Add 1 teaspoon orange blossom water and set aside to cool completely.
Measure 2 cups cooled syrup to use in making the Knafeh Farik and save the rest in a container for future use.
Method for the Knafeh Farik:
In a large bowl, mix all Farik dry ingredients together.
Add melted butter, water and 2 cups cooled sugar syrup; mix well.
Line a large baking pan with parchment paper, add the mixture and bake in a preheated 375 degrees oven for 10 minutes.
Fluff it with a fork to separate the dough. Bake extra time if needed.
The mixture should not be doughy; You can see that most moisture has evaporated. Let cool completely.
Once the Farik/dough has cooled, place in batches in food processor and pulse till its texture resembles raw sugar.
Ingredients for The Cheese Mixture:
2 cups fresh mozzarella cheese

1 cup shredded mozzarella cheese

2 cups whole milk

1 teaspoon mastic mixed with 1 teaspoon sugar, optional

1/3 cup farina (cream of wheat)
Cooking The Cheese and Assembling the Knafeh:
Chop the fresh mozzarella in a food processor till it resembles a coarse meal. Set aside.
In

a medium heavy saucepan, heat the milk over medium-high heat until it is hot, but not boiling. Add the farina and cook for 2 minutes, stirring constantly, until the mixture is slightly thickened. Add the mastic mixed with 1 teaspoon sugar.

Combine fresh and shredded mozzarella and add to the farina mixture.

Line a large round baking pan with parchment paper

; place half the farik/dough in bottom and press with the palm of your hand.

Pour cheese mixture over and smooth it.
Place in a pre-heated oven and bake for 30-40 minutes or until the knafeh's color turns golden brown.
Remove from the oven and let it cool for 10 minutes.
Invert the

knafeh onto a platter so the farik part is on top. Drizzle it with 1/4 cup syrup and serve some on the side for your guests if they want more syrup.

Sprinkle some chopped pistachios over it if you wish.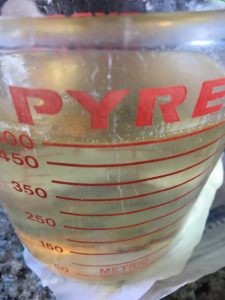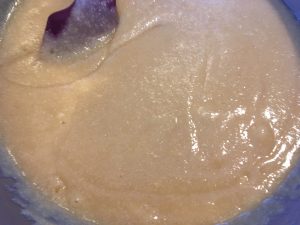 2 cups sugar syrup; add it to all the dry ingredients and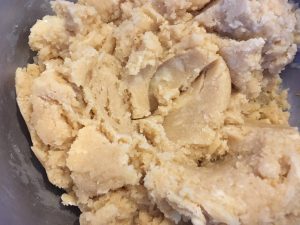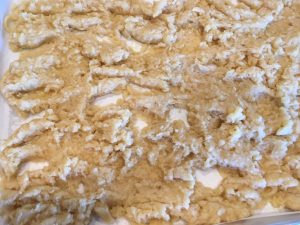 The mixture before baking; lay it flat in baking pan, press it with the palm of your hand and bake for 10-15 minutes.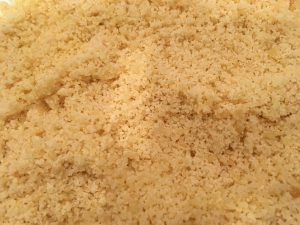 What Farik should look like after baking and processing to small pieces in food processor.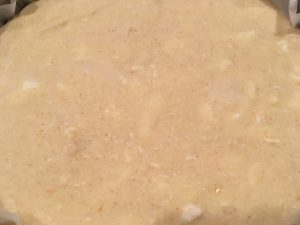 Line a large round baking pan with parchment paper, place a 1/2 inch thickness of Farik on bottom then the cheese mixture over it.
Preheat oven to 375 degree F and bake pan till the crust is golden. Once ready, turn the pan over a flat serving platter and drizzle some sugar syrup over it.
The bottom of the Knafeh becomes the top; it should be golden brown and looks delicious!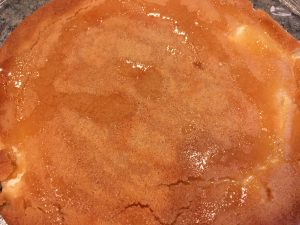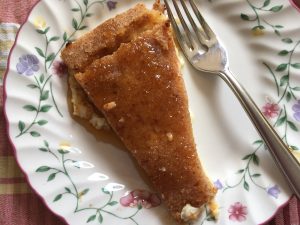 Bon Appetit!