In Yemen, Kabsa is a national dish however, other countries such as Saudi Arabia, Lebanon, Palestine, Jordan, Qatar, Oman, the United Arab Emirates, Bahrain, Iraq and Kuwait enjoy this dish as well.  It is also popularly known as makbūs in most Arab states of the Arab Gulf, and it is served in the same way. There are many recipes for Kabsa, this one is tasty and light. Hope you'll give it a try!
Ingredients:
1 rotisserie chicken, cut up
2 cups Basmati rice, un-rinsed
3 tomatoes, skin removed and diced
1 green pepper, diced
1 red pepper, diced
1 large onion, finally chopped
2 carrots, chopped
1/4 cup raisins
2 teaspoons grated fresh ginger
1/4 cup toasted slivered almonds or pine nuts
1/2 teaspoon saffron
1 teaspoon turmeric
2 tablespoons Kabsa spices (found at Middle Eastern stores)
1 teaspoon black pepper
1/2 teaspoon cardamom ground
1/2 teaspoon ground cinnamon
2 cups hot water
2 cups chicken broth, hot
Salt & pepper to taste
4 tablespoons olive oil
Method:
Mix all the spices together and set aside.
Heat olive oil in a large pot over medium heat, stir in onions and cook for couple minutes. Add the carrots, ginger, green and red peppers and diced tomatoes. Cook for few minutes.
Stir in all the spices and mix well.
Add the hot water and chicken broth and bring the mixture to a full boil.
Reduce the heat to simmer and cover the pot. Cook for 5 minutes.
Gently stir in the rice. Cover the pot and simmer until rice is tender and almost dry, about 25 minutes.
Add the raisins and a little more hot water, if necessary.
Cover and cook for an extra 5 minutes or until the rice grains are separate.

Transfer the rice to a large serving platter and arrange the rotisserie chicken pieces on top. Sprinkle the toasted slivered almonds over the dish.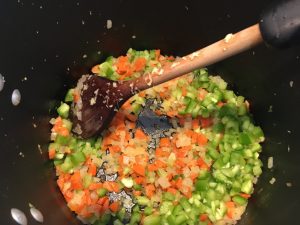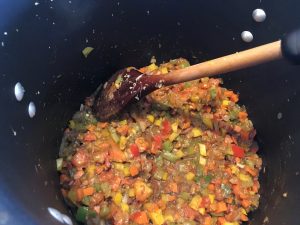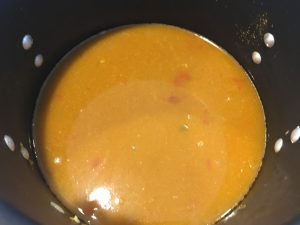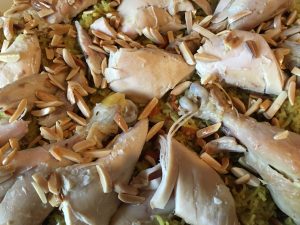 Bon Appetit!