Cedar and Alder plank cooking was created by Northwest Native Americans. They would tie fish and game to large Western red cedar or alder planks. They would then place the planks around open fires, and the residual heat from the fire would cook the fish or game.
This cooking procedure was done for hundreds of years, more out of a necessity for a cooking surface than anything else. In the late 1990's, chefs started experimenting with cedar plank cooking because they found it a healthier way to cook and the food maintained its natural juices. Baking planks come in two different woods-Red Cedar and Alder. The cedar is a little more aromatic and adds a stronger woodsy flavor to the food. The alder is milder and sweeter, with a very subtle flavor. For this recipe, I'm using a cedar plank that I soaked in water for a couple of hours before baking the salmon on it.
Ingredients:
2 pounds Salmon filet
One Cedar Plank
2 Tablespoons Olive Oil
1 fresh lime, thinly sliced
Salt & pepper, to taste
Garlic powder, to taste
Fresh dill
fingerlings (small) potatoes
Fresh rosemary leaves
Method: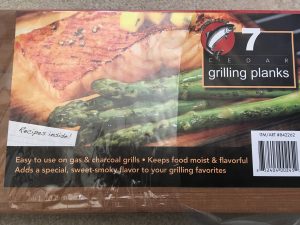 Soak the Cedar Plank in cold water for at least 2 hours by placing it on a large baking pan filled with water.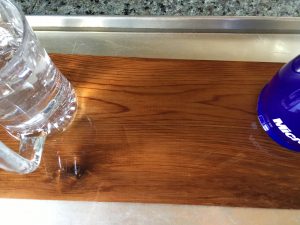 Place 2 heavy cups of water over the plank to use as weights so water will cover the Plank surface. This will prevent burning the cedar plank in the oven while baking.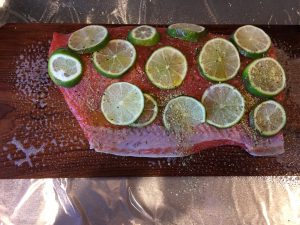 When ready to bake the salmon, preheat the oven to 450 degrees F, drain the water out of the baking pan, line it with aluminum foil, place the plank on the foil and spray it with vegetable spray.
Place the salmon on the plank, rub it with olive oil and season it with fresh dill, slices of lime, salt & pepper, and garlic powder.
Bake the salmon for 15-20 minutes and serve it with baked asparagus & potatoes.
To prepare the potatoes: Wash them well, pat them dry with a paper towel, cut them in half and place them on a cookie sheet lined with Silpat or parchment paper. Spray the sheet with olive oil, rub the potatoes with olive oil, salt, pepper, garlic salt, rosemary sprigs and bake in a preheated oven at 400 degrees F for about 25 minutes. After baking, I usually smash the potatoes a bit with the bottom of a glass cup to flatten them slightly and sometimes I add parmesan cheese as well.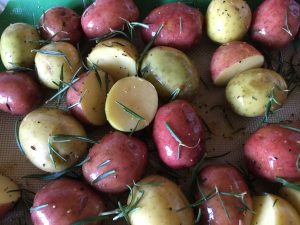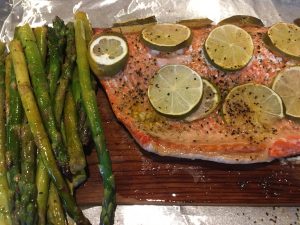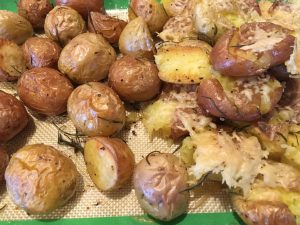 Bon Appetit