The word Fatteh means "to crumble" in Arabic and this is the thought behind this Lebanese dish. Traditionally, it is made with ground beef or lamb, fried pita bread and eggplant. The way I make it is with toasted pita bread and broiled eggplants to make it healthier.  You sure can add ground beef or lamb over the eggplant however, it's heart healthy the vegetarian version. So, let's make eggplant fatteh together today.
Ingredients:
1 big fresh eggplant
1  64 ounces plain yogurt
1 tablespoon corn flour
1 tablespoon tahini paste
2 tablespoons lemon juice
6 cloves of garlic, minced
Salt and pepper to taste
4 tablespoons vegetable oil
1/4 cup pine nuts
1/4 cup slivered almond
2 tablespoons dried mint
Method:
Toast the pine nuts and slivered almond in vegetable oil. Set aside.
Cut pita bread into small pieces, coat with vegetable spray and broil/toast till golden in color. Set aside.
Wash the eggplant, peel part of the skin lengthwise and cut into 1/4 inch slices.
Spray a baking pan with vegetable spray, lay the sliced eggplants over it, season with salt and pepper.
Heat oven to broil on high, place tray in it and watch the eggplants carefully while broiling.
Once the eggplants brown on one side, turn them over in the baking tray, coat them with vegetable spray and broil.
In a bowl, mix yogurt, tahini paste, corn flour, garlic, salt, pepper, dried mint and lemon juice. Adjust flavor to your liking.
Heat the yogurt mixture in the microwave till very hot.
In a Pyrex dish, lay pita chips over the broiled eggplant.
Heat for 10 minutes uncovered, in preheated oven to 325 degrees F.
To serve, pour the hot yogurt mixture over the eggplants, toasted bread and decorate with the pine nuts and almond.
Serve immediately and enjoy!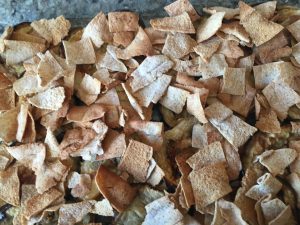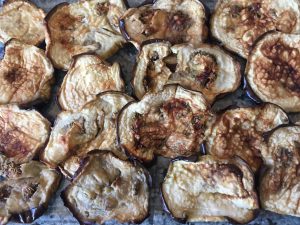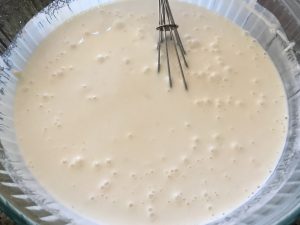 Toasted pita chips/Broiled Eggplants/yogurt mixture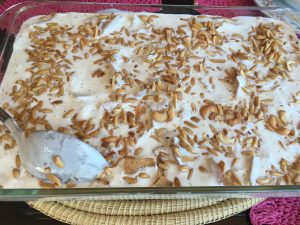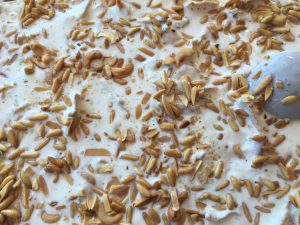 Bon Appetit!
Save
Save