My sister-in-law Siham gave me this recipe a while back and I've made it ever since. It's a good way to use and recycle the extra apples you may have. The sweet smell that emanates from the kitchen while these apple bars are baking brings on an irresistible aroma of Thanksgiving! This dessert is easy to prepare and really yummy!
Ingredients:
1 cup oil
2 cups sugar
2 eggs (room temperature)
3 cups all-purpose flour
1 teaspoon baking soda
1/2 teaspoon salt
1 teaspoon cinnamon
2 teaspoons vanilla
3 cups chopped fresh apples (cubed)
1 cup chopped pecans or walnuts
Method:  
Preheat oven to 350 degrees F.
Combine cinnamon and the cubed apples. Set aside.
In a standing mixer, beat the eggs, vanilla, sugar and mix well. Add oil & incorporate until well blended.
Combine flour, baking soda and salt then gradually add to the egg mixture.
Add the apples and chopped pecans to the batter and mix well using a rubber spatula.
Lay a piece of parchment paper in the bottom and sides of an 8×13 baking pan. Grease with vegetable spray.
Pour batter into pan and bake for one hour or until a toothpick inserted in the center comes out clean.
Cool completely before cutting into bars; dust with powdered sugar before serving.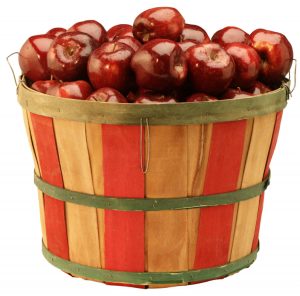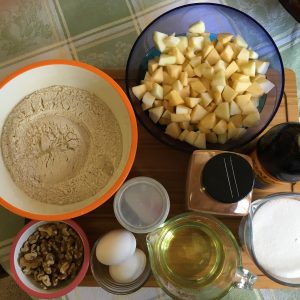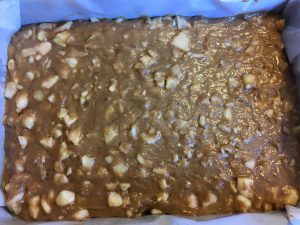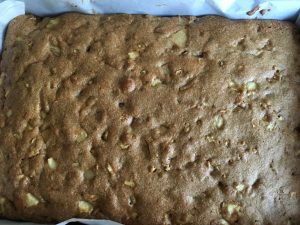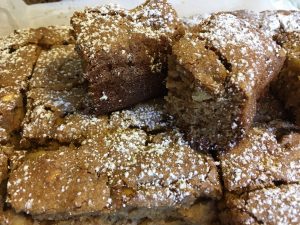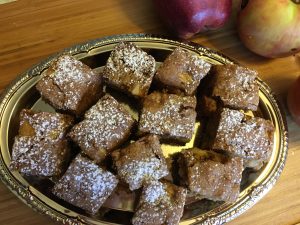 Bon Appetit!
P.S: I used whole wheat flour instead of all-purpose flour.