Hummus is a staple in the Middle Eastern cuisine. It's a creamy dip, healthy, versatile and delicious. You can add avocado, roasted peppers, sun-dried tomatoes, cilantro or anything you like. All the main ingredients are super foods in their own right. It's got chickpeas, sesame paste, garlic and olive oil in most traditional versions.
You can buy dried chickpeas and cook them from scratch or buy them in cans if you don't have time. Tahini paste is readily available in all supermarkets around the USA.
Ingredients:
2 cups dried chickpeas (the smallest you can find)
2 tbsp baking soda for soaking + ½ tsp for cooking
½ cup Tahini
juice from 1 squeezed lemon
2 garlic cloves
½ tsp salt
1/2 teaspoon cumin (optional)
½ – 1 cup water, depending on desired consistency.
Method:
Soak chickpeas in clean water with 2 tablespoons of baking soda overnight.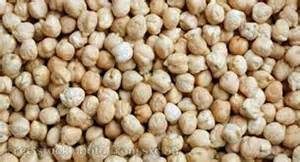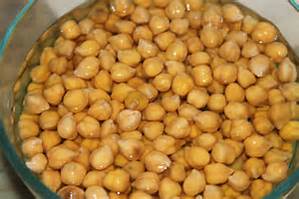 Drain, rinse and soak again in tap water for a few more hours. The grains should absorb most of the water and almost double their volume.
Rinse the chickpeas well and put them in a large pot. Cover with water, add ½ tsp baking soda and NO salt. Cook until the grains are very tender, around 45 minutes to an hour. Regularly skim the surface during cooking process to remove foam and loose peels floating.
When cooked, drain the chickpeas and transfer to your food processor. Process into a thick purée. Allow to cool for a little while before you continue.
Add the tahini, lemon juice, garlic, salt and cumin, then start the food processor. Add water, a bit at a time, until you get the desired texture. Make it a bit thinner than the real desired texture, as it tends to firm up after a little while (especially if you don't eat it right away and refrigerate it).
Drizzle extra virgin olive oil and add toasted pine nuts to the Hummus if you like.
Serve with pita chips, or crudités, or just plain grab a spoon and dig in!
To make Pita Chips:  
Simply tear couple pita breads by hand or cut them with scissors, spray them with vegetable spray or olive oil and bake them in a 325 degrees F oven until golden brown. Serve these healthy pita chips with hummus, labné or any other dip you like.
To make Avocado Hummus:
Follow the same process above and add 1 peeled avocado to step 4, adjust the seasoning  and continue.
This hummus is creamy, yummy and very healthy.
Bon Appetit!
Tip: You can adjust the proportions of the ingredients to taste, depending on how strong you want the flavor and how thick you like your hummus. Start with less liquid than you think you might need. You can always add more as you blend it, but if you add too much, you've got a sauce, not a dip.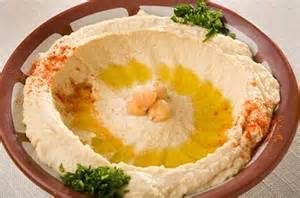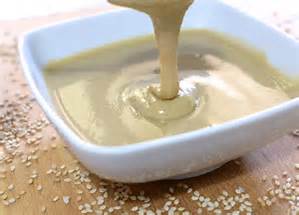 Hummus is usually served in special bowls .   Above is what Tahini Paste looks like.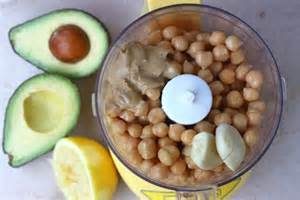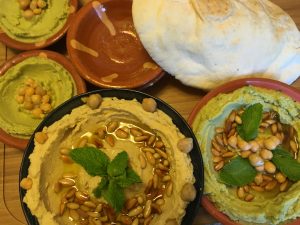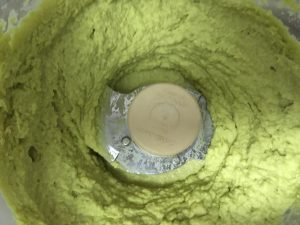 This is what the Avocado Hummus looks like in your food processor. Process until smooth and creamy.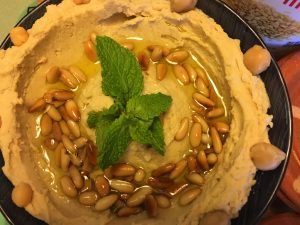 Drizzle extra virgin olive oil and toasted pine nuts on top of the hummus if you wish.
Serve the Hummus with pita bread or chips and enjoy.