This tart is an example of how one Mediterranean dish takes on a different name in various countries around the Mediterranean! The Greeks Cypriot call it Pasta Flora, in Greece they call it Jam Tart, the Italians call it Pasta FROLA by reversing the r & l! Usually this cookie is made for the Christmas season however it's great to make it anytime. Pasta Frola is another example of the influence of Italian food on Argentinian and Uruguayan cuisine – its name comes from the Italian word for the shortbread crust Pasta Frolla that is used to make Italian Crostate. The filling has evolved to match South American tastes: usually quince paste or dulce de leche.
No matter where this tart recipe originated from, it's a delicious and wonderful dessert.
These jam tarts can be made in all sizes, from small individual tarts topped with jam and a decorative piece of fruit to large tarts, most often decorated with a latticework made from the dough. You can use other jams if you like.
Ingredients:
3 1/2 cups all purpose flour
1 teaspoon baking powder
4 egg yolks
1 cup butter unsalted
3/4 cup sugar
2 tablespoons cognac
1 teaspoon vanilla extract
500 ml (about 1 1/2 cups) apricot jam
Method:
1. Preheat the oven to 350 degrees F.
2. Beat the sugar with butter until fluffy. Then add the egg yolks one at a time, beating the mix well after each egg yolk. Add the cognac and the vanilla. Then, the flour and baking powder until a nice soft dough is formed.
3. I like to make the Pasta Flora quite thin and into cookies. Divide the dough in half. Press half of the dough into the bottom of the pan (14 inches by 10 inches). Spread the jam on top. Take the remaining dough and roll a long thin roll and place it on top of the jam so it follows the edge of the rectangle pan.
4. Make more rolls and place them diagonally over the jam to create a diamond pattern. If you wish, place small roasted almond piece in each diamond pattern. Bake for about 35 to 40 minutes until the dough is golden brown. Once the cookies are baked, cool them on your counter and cut them into the size you wish.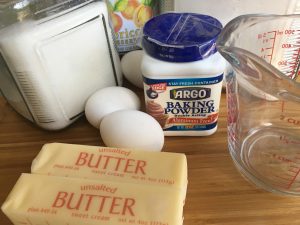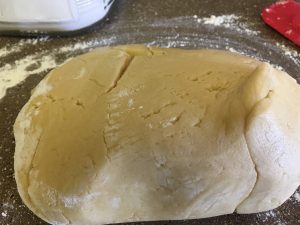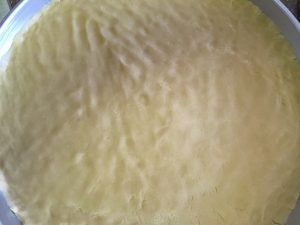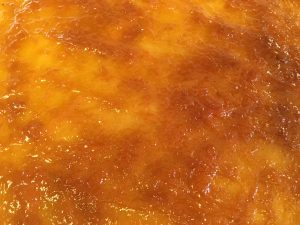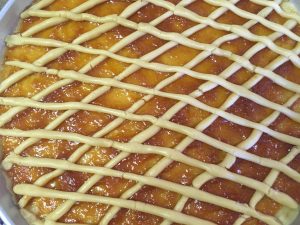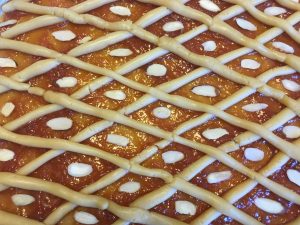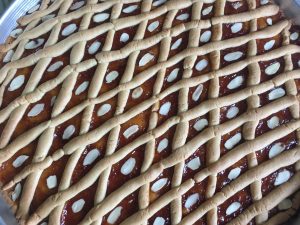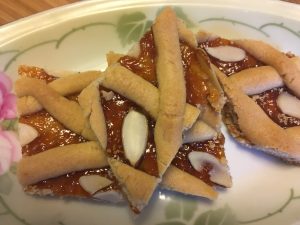 P.S: Because I was working in a hot environment, I had to cool the unbaked tart in the fridge for about one hour before baking.
P.S.S: I used a 12.9 inches round baking pan instead of the rectangular one. You can use either one.