Namoura is a very famous and delicious Lebanese dessert and there are many recipes out there.
It is a mixture of Farina, butter, yogurt and other ingredients.
Here's one of the recipes:
Ingredients:
16 oz of farina
1  1/2 sticks of sweet butter (6 oz) room temperature
1  1/2cup of plain Greek yogurt
3 teaspoons baking powder
1/4 teaspoon of baking soda
1/2 cup of mixed orange blossom water and rose water
2 Tablespoons Tahini sauce for the bottom of a medium size round pan
A handful of pine nuts or almonds for the top
Sugar syrup:
4 cups sugar
1 1/2 cups water
1 teaspoon lemon juice
2 teaspoons orange blossom
let this mixture boil for about 10 minutes and set aside.
Preheat over to 350 degrees
With your hands mix together farina and softened butter. Add the remaining ingredients minus the orange blossom and rose water. Mix well then add the orange blossom and rose water until you have a semi soft dough.
In the bottom of a medium size round baking pan, spread the tahini sauce well to cover the sides too. Add the mixture and spread evenly over the tahini. Pat the dough down to make it even and smooth by adding a little of rose water to the top that you'll score with a plastic knife as shown in the picture. Place a pine nut or 2  or sliced almond on top of each piece. Let it rest for half an hour on your counter then bake in the middle of a preheated oven for about 40 minutes or until the top becomes golden. Pour over it the warm sugar syrup and let rest…It's really yummy 🙂
P.S: many chefs add sugar to the namoura's mixture, however, since it already has sugar syrup, I tend not to do that.
P.S.S: all these ingredients can be found at most supermarkets around the nation or at Middle Eastern stores.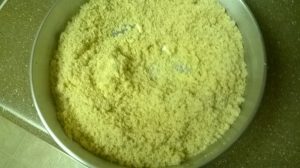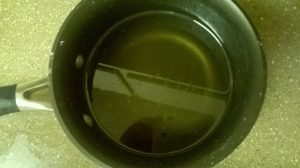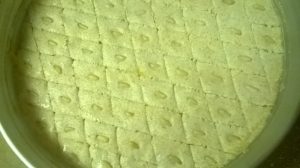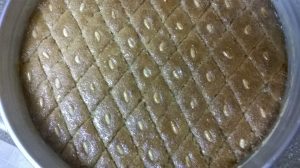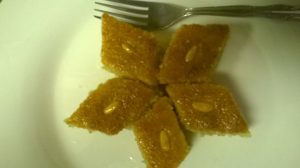 Namoura is typically served cold, if you can resist waiting for it to cool down, lol 🙂
Bon Appetit!!!!