Tabboule is a traditional Lebanese dish made with bulgur wheat that's been soaked and marinated in a simple dressing of olive oil and fresh squeezed lemon juice.  It's mixed with lots of fresh parsley, mint and tomatoes which gives it a unique refreshing flavor.
The 'jewels' in this Tabboule refer to the dried fruits and nuts that give the salad a beautiful look along with lots of contrast of flavor and texture.  The nuts like almonds, pistachios and pomegranate seeds add another dimension  to this salad.  In so many ways this salad resembles the Persian Jeweled Rice that's usually served at special occasions like weddings.
You sure can make this Tabboule the traditional way with cracked wheat however the wheat berries add the chew factor. You can substitute some of the nuts here with dried cranberries walnuts, dates or dried figs. Measure the wheat after soaking not before. This recipe is the courtesy of Sue.
 Ingredients:
2 cups soaked cracked wheat (after soaking)
2 cups cooked wheat berries (after cooking)
1/4 cup extra virgin olive oil
1/4 cup fresh squeezed lemon juice
salt and freshly cracked black pepper
2 large bunches well washed fresh parsley, stems removed, finely minced ( pulse it in a food processor)
1 small bunch of fresh mint leaves, finely chopped
1/2 English cucumber, finely diced and unpeeled
1/2 medium red onion, finely diced
The Jewels:
1/2 cup raw pistachios, roughly chopped
1/2 cup dried apricots, finely diced
1/4 cup blanched almonds, roughly chopped
1/4 cup golden raisins
1/2 cup pomegranate seeds
Method:
 You will need 2 cups soaked cracked wheat and 2 cups cooked wheat berries. Follow the directions on the packages. Once soaked and cooked, measure out 2 cups each and put in a large bowl.
Mix the dressing by whisking the olive oil and lemon juice together. Pour it over the wheat and toss to combine well. Season with 1/2 tsp salt and lots of fresh cracked black pepper. Toss again.
Add the minced parsley, mint, cucumber, and red onion, toss well. Cover and refrigerate for at least an hour.
Toss the salad again, and taste to adjust any of the seasonings. When you are ready to serve, top with the 'jewels'. Garnish with a few mint or parsley leaves.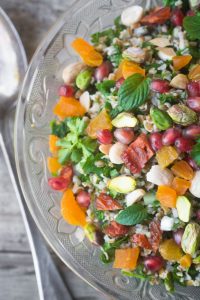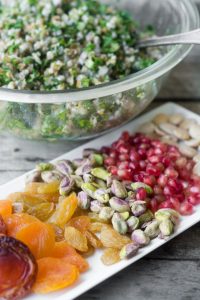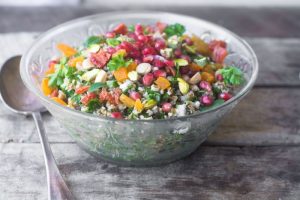 Save
Save
Save