Cauliflower is considered a super-food because of its beneficial effects on numerous aspects of health. Some of its most impressive benefits are:
Cauliflower contains  a sulfur compound that has also been shown to kill cancer stem cells, thereby slowing tumor growth. Some researchers believe eliminating cancer stem cells may be key to controlling cancer.

It boosts heart health
Fights Cancer
 Is an anti-Inflammatory
Rich in Vitamins and Minerals
Boosts brain health
Has Digestive Benefits because it's

an important source of dietary fiber.
Adding to cauliflower's appeal is its extreme versatility. You can eat it raw, add it to salads, or use it in your cooking. Cauliflower can even be seasoned and mashed for a healthier version of "mashed potatoes".
INGREDIENTS
2 tablespoons capers, drained and roughly chopped
1 tablespoon French whole grain mustard
2 cloves garlic, minced
2 tablespoons cider vinegar
1/2 cup olive oil, plus more for drizzling
1 large head of cauliflower (about 2 pounds)
3 medium size tomatoes, diced or use 20 cherry tomatoes (halved)
A good handful of Arugula or Spinach or 1 pound of cooked Collard Greens
1/2 cup chopped fresh mint
Salt & Pepper to taste
1/2 cup of toasted pine nuts (optional)

Method:

Make the dressing in a food processor or by hand by mixing together the capers, mustard, garlic, vinegar and some salt and pepper. Whisk vigorously or run the machine while adding half the oil in a slow trickle. You should get a thick, creamy dressing. Taste and adjust seasoning.
Add the cauliflower to a large pan of boiling salted water and simmer for just 3 minutes. Drain and run under a cold tap to stop it from cooking further. Leave in the colander to dry well, then put it in a mixing bowl with the rest of the olive oil and some seasoning. Toss well.
Heat a ridged griddle pan over the highest possible heat and leave it for 5 minutes or until it is really hot. Grill the cauliflower in batches – don't over-crowd the pan. Keep turning until they are nicely charred all over and transfer to a bowl. While the cauliflower is still hot, add the dressing, fresh mint, spinach or arugula and tomatoes. Stir together, taste and adjust seasoning again. Sprinkle the toasted pine nuts on top for garnish.
Serve warm or at room temperature.
I served home baked steak fries as an accompaniment.
Enjoy!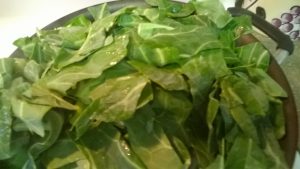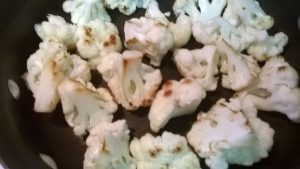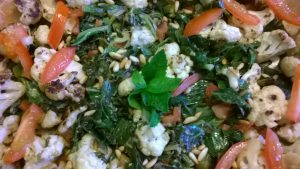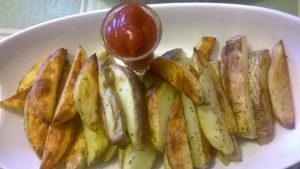 P.S: I use 1 pound of cooked collard greens with this recipe sometimes. I sauté the greens in a hot pan till tender and follow the rest of the recipe.
Save