Summer is here and the air is infused with an irresistible aroma of fresh fruits! As if you're out in a beautiful field filled with bouquets of flowers and their amazing perfume is pervading the atmosphere!!!
I love fresh fruits, especially Apricots, not only because they're delicious, they have many health benefits as well. Apricots have a wide range of nutrients in them, they're rich in vitamins like beta-carotene, Vitamin A, C E and K.  They are rich in minerals like iron, potassium, manganese, magnesium, phosphorus. Apricots are a good source of antioxidants, dietary fiber and flavonoids. Sooo, I thought since I eat lots of fresh fruits anyway, I have to satisfy my sweet tooth as well and thought about these yummy Apricot Bars! This is not a traditional way of making Apricot bars however, by separating the eggs and beating the whites separately, the texture of these bars is slightly crunchy on the bottom and the meringue makes them spongy and airy! You really have to try them and believe me, you won't regret it!
Ingredients:
4 large or x-large eggs, separated , at room temperature
Note* separate the eggs when they are still cold, that will prevent the yolks from crushing
250 grams unsalted soft butter
¾ cup sugar for the batter and another ⅔ cup sugar for making the meringue layer
2 ½ cup flour
¼ tsp salt
½ tsp baking soda
1 tsp baking powder
2 tsp vanilla extract , divided: 1 tsp for cake batter and 1 tsp for the meringue layer
18 oz (500 grams) apricot jam
1 cup coarsely chopped walnuts or pecans
You will also need a 13″x9″ baking pan and cooking spray
Method:
In a bowl combine dry ingredients : flour, salt, baking soda and powder, set aside.
In a mixing bowl on high speed, beat the butter and sugar until pale and fluffy.
Lower the speed and add the yolks, one at a time.
Add vanilla extract and dry ingredients in 2-3 additions, stop and scrape between additions.
Divide the dough into 3 portions, one slightly larger to use for bottom layer.
Lightly spray the baking pan with cooking spray, line with parchment paper, spray again before adding the dough.
Using your fingertips spread the larger portion of the dough onto the bottom of the pan.
Freeze the other 2 portions, while you proceed to the next step.
Make the meringue by beating the egg whites, sugar & vanilla until they're stiff. Set aside.
Spread apricot jam evenly on the bottom layer (1st layer).
Using a large shredder, shred one of the frozen dough portions on the jam.
Sprinkle with walnuts.
Spread the meringue.
Shred the last frozen layer on top of meringue.
Bake at 350°F/180°C degrees , 45 minutes or until bright golden color.
Allow to cool down to room temperature beg ire slicing.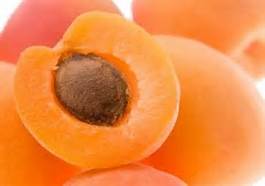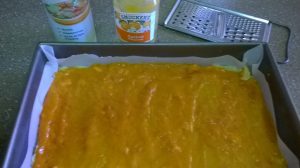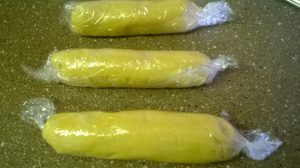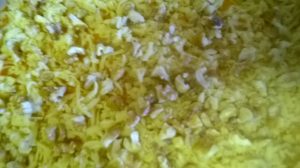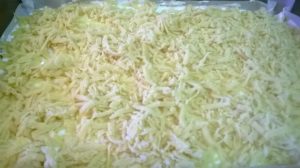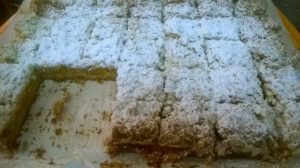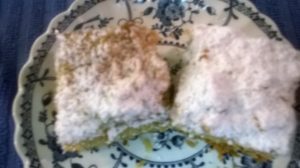 Save
Save