Pistachios have been around for thousands of years throughout the Mediterranean. They're a nut that's known to have many important health benefits. Pistachios have been shown to reduce LDL ("bad") cholesterol and increase the good HDL cholesterol after only a short period of regular consumption. High in antioxidants such as vitamins A and E, they fight inflammation, protecting blood vessels and reducing risk of heart disease. Eating pistachios may help to prevent Type 2 diabetes. 60 percent of the recommended daily value of the mineral phosphorous is contained in just one cup of pistachios . Pistachios are an incredibly rich source of vitamin B6 that's essential to make hemoglobin, the protein responsible for carrying oxygen through the blood stream to cells, and is also shown to increase the amount of oxygen carried. A healthy immune system requires adequate intake of vitamin B6, which pistachios are abound in. They are a great source of vitamin E, a powerful fat-soluble antioxidant, essential for maintaining the integrity of cell membranes and often recommended for healthy and beautiful skin…. As you can see, pistachios' health benefits are abundant. So I've been looking  for new recipes that include lemon and pistachios and came across this delicious one from Sicily.  Make it and believe me it will become one of your family favorites too!!!BTW, this recipe is gluten free too.
Ingredients:
1 1/2 C raw pistachios (shelled and unsalted), plus extra for garnish
1/2 C almond meal
1/2 C granulated sugar
1 1/2 tsp honey
1/2 tsp vanilla extract
3/4 tsp lemon zest
1 large egg white
About 1/2 C powdered sugar
Method:
Preheat oven to 350 degrees. In a food processor, pulse the almond meal, pistachios and half of the sugar measure until finely chopped (but not fully ground). Transfer to a large bowl and combine with the vanilla, lemon zest and honey. Add the white and mix. Add the sugar and gently combine. (You might find it easier to use your hands.) Form into tablespoon-sized balls and roll in the powdered sugar to coat. Transfer to baking sheets lined with parchment, leaving about an 1 1/4″ distance between each cookie. Press a pistachio into each cookie for garnish.
Bake 15-18 minutes until fragrant, crackled and golden brown. When cooled, transfer to an air-tight container for up to 2 weeks.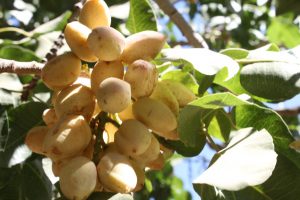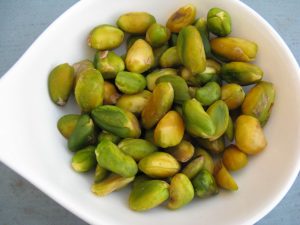 A Pistachio tree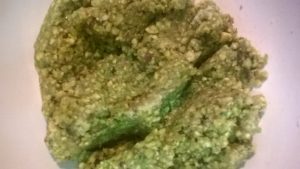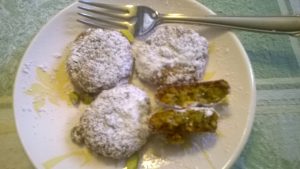 The cookie dough before forming