Date Cookies or Maamoul are easily found at pastries shops in the Middle East however, they taste so much better if they're prepared at home. They are semolina/farina shortbread bound with butter, orange and rose water blossoms and hold a delicious sweet filling that is either dates, walnuts or pistachios. Imagine biting through that buttery, crumbly crust and getting the faint hint of rose and orange blossoms, followed by the chewiness of dates or nuttiness of  pistachios or walnuts, Just heaven!!!
There are many Maamoul recipes however I consistently use the one below with great results. To make these cookies, you can use a Maamoul mold that you find in Middle Eastern stores in the USA. This recipe makes 38 filled cookies.
Ingredients:
2 cups farina
1 1/4 cup semolina
1/4 cup sugar
1/4 cup all purpose flour
1/2 cup combined rose water + blossom water
1 cup unsalted butter at room temperature
1/2 teaspoon ground mahlab (found at Middle Easter stores)
1/4 teaspoon ground anise seeds
1 envelope yeast mixed with 1 teaspoon sugar + 5 teaspoons warm water
Filling:
2 packages of baking dates (smooth not pieces)
1/4 teaspoon ground mahlab (see note below)
2 teaspoons instant dry milk
Method:
In the bowl of an electric mixer fitted with a paddle attachment, mix thoroughly all the dry ingredients excluding the yeast. Add the butter and mix for about 10 minutes until well combined. Cover and set aside for at least 4 hours or overnight.
Combine yeast, sugar and warm water together and add to the butter/farina mixture. Mix well and add additional rose water to the dough if needed. It should feel soft like play dough. Let it rest at least an hour while you prepare the filling.
For the filling, combine the baking dates with mahlab and dry milk over low heat just until warmed. Mix thoroughly and set aside to cool before using.
To form the cookies:
Roll dough into balls, smaller than golf balls
Poke an indent into the ball and place some of the filling inside
Close the dough so that the filling is totally covered by dough
Spray the maamoul mold with vegetable spray
Put the ball in the maamoul mold and push firmly but not overly so
Put a cutting board and cover with a kitchen towel
Strike the top tip of the mold on the kitchen towel to release the maamoul cookie
The mold indentations will copy to the top of the cookie
Repeat and when you have a tray full, put into an oven that has been preheated to 375 degrees Fahrenheit.
It will take around 15-20 minutes to bake, but what you are after is the slightest coloring. You don't want it to brown
Remove, cool and eat when warm or cold
Baked cookies can be frozen in an airtight container. Serve them with coffee or  tea.
Bon Appetit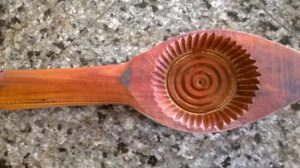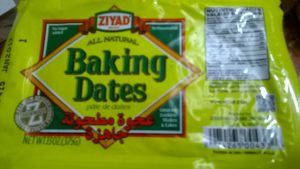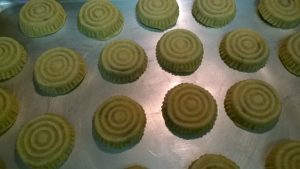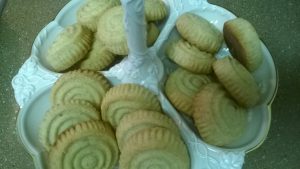 P.S: Mahlab is a spice made from the seeds of a variety of sour cherry known as the Mahlep or Mahleb tree. The spice has a distinctive flavor which tastes somewhat like cherries and slightly like almonds, with a hint of a sharp, sour taste, and it is very popular in baked goods and holiday foods throughout the Middle East and in neighboring regions like Greece. This spice can be found whole or ground at all Middle Eastern specialty markets.