Today the temp outside was very high and I wanted to make something summery and cool. Thought about my go to couscous recipe. Couscous is a North African dish of small steamed balls of semolina.  It is a staple food of Morocco, Algeria, Tunisia, Mauritania and Libya. It is usually served with a stew spooned on top, however I like to make a variety of salads with it. Couscous is found in all supermarkets in the US.
Ingredients:
1 cup of couscous, uncooked
2 cups chicken or vegetable broth, hot
1/2 cup of charbroiled/ char-grilled red pepper, cut
1/2 cup of provolone cheese, diced
1/4 cup of Kalamata olives, whole and pitted
2 Tablespoons fresh basil leaves, torn
4 Tablespoons olive oil, divided
1 garlic clove, minced
Salt and pepper to taste
Method:
Heat 2 tbsp olive oil over medium high stove, add the couscous and cook for 1 minute. To that add the chicken/vegetable broth, salt and pepper and cook for 5 minutes covered on low temp.
Fluff the cooked couscous with a fork and add the other ingredients while mixing gently.
P.S: couscous cooks very fast and is a light dish. Sometimes I add corn, green pepper, artichokes and feta cheese which makes it really tasty! Enjoy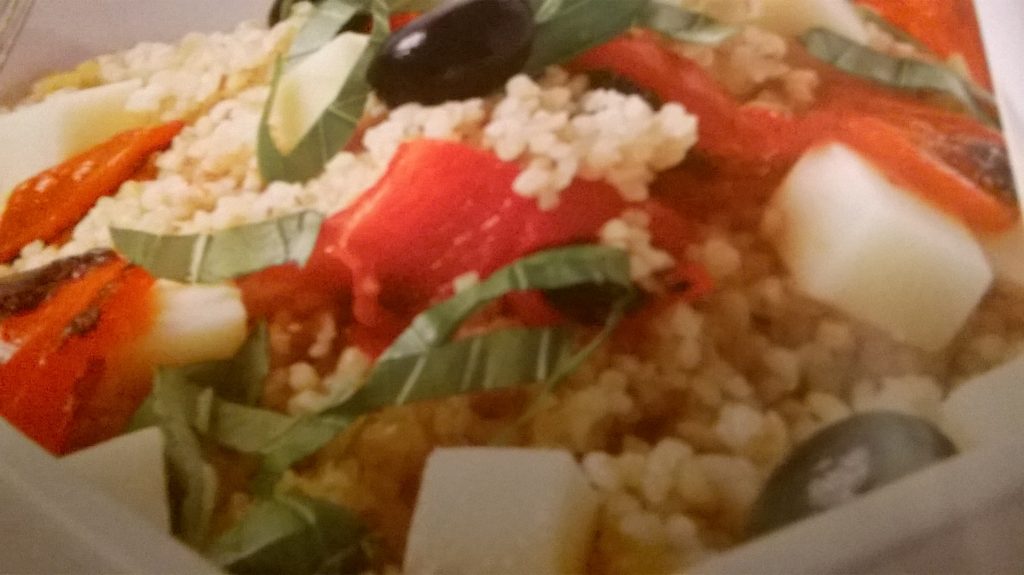 Save