Maamoul recipes are a staple of holidays in the Middle East. Preparations for festivities cannot be complete if you don't have some Maamoul to offer visitors coming to wish you a happy Eid (holiday)! Homes are usually filled with scents of spices, mastic, and the aromas cannot be missed! You can always buy maamoul online or in Middle Eastern stores, however, the texture or the flavor cannot compare to what you make at home.
I usually double this recipe to make enough and save in the freezer.
Ingredients:
4 cups Farina (smid)
1 1/2 cups semolina (farkha)
1/2 cup sugar
1/2 teaspoon mastic powder (optional)
1 teaspoon sugar + 1/2 cup warm water for the yeast
1/4 cup all-purpose flour
1/4 cup orange blossom water
1/2 cup rose water
2 cups butter/softened
1/2 teaspoon mahlab
2 1/4 teaspoons yeast
Method:
Mix farina, semolina, mahlab, sugar, mastic, and flour.
Combine the farina mixture with the softened butter in a standing mixer blending for at least 10 minutes till the butter is well absorbed.
Add the orange blossom and rose water and mix thoroughly.
Leave it overnight to allow the farina and semolina to swell and soften.
The next day, dissolve the yeast with 1 teaspoon sugar and water till you see bubbles forming and the yeast is activated.
Combine the yeast with the farina dough and mix well. Cover and allow to rest for 1 1/2 hours.
Once this dough is ready to be filled, divide it in half.
Coat a baking pyrex dish or a baking pan with vegetable spray.
Lay the first half of the Farina dough in your baking pan spreading evenly to cover all corners.
Dab your hands with orange blossom water before working with the dates to avoid sticking.
Place some date mixture in the palm of your hand and flatten evenly. Lay the flattened mixture over the first layer of Farina dough. Repeat till all the Farina dough is well covered with the date filling.
Cover the date mixture with the second layer of dough and smooth it with some water.
Cut it into the desired shape and bake it in a 350 degrees F preheated oven for about 45 minutes.
Cool on your rack before recutting it.
Ingredients for Date filling and Method:
2 packages date puree
1 teaspoon butter, melted
1/4 teaspoon mahlab
Combine dates with the melted butter and mahlab well.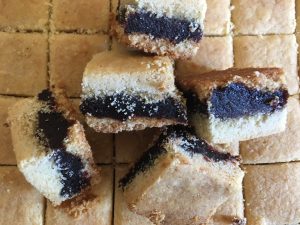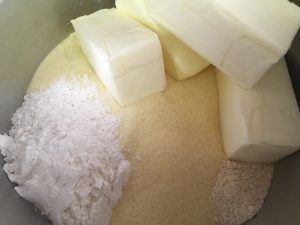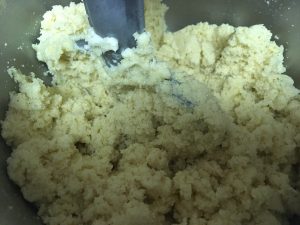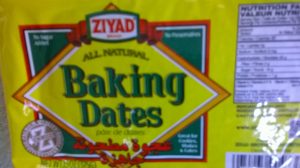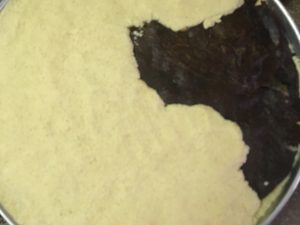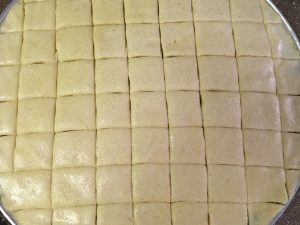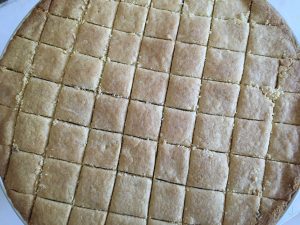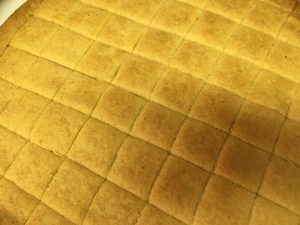 Bon Appetit!