Sable (pronounced Sa-bleh) is a very delicate French cookie that hails from the Normandy region. It's crumbly, sweet and delicious. It's a sandwich cookie that is usually filled with jam or dipped in dark chocolate. Whichever way you decide to eat it, it's just amazing!
Ingredients:
2 sticks unsalted butter (1 cup butter)
2 eggs
1 teaspoon baking powder
1 1/2 c powdered sugar
1 teaspoon vanilla
Zest of one orange/or one lemon
3-3 1/2 cups all-purpose flour
Pinch of salt
Method:
Line baking sheet with parchment paper. Set aside.
Place butter & sugar in the bowl of a food processor and mix until creamy. Add eggs, vanilla, salt, lemon zest and mix for few seconds. Add the baking powder and flour, one cup at a time; process until smooth.  Wrap dough with plastic wrap and refrigerate until chilled.
Place half of the dough on parchment paper on work surface; top with a sheet of plastic wrap. Roll out dough between parchment paper and plastic wrap to an 1/8 inch thick. Cut with  2 inch round fluted cookie cutter and transfer to prepared baking sheets. Refrigerate baking sheets for 30 minutes.
Bake in a 325 degrees preheated oven for about 12-15 minutes or until pale golden.
Cool on wire rack before filling with jam or chocolate.
Dust powdered sugar if desired on filled cookies.
Serve Sable with a cup of coffee or tea and enjoy!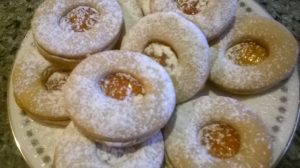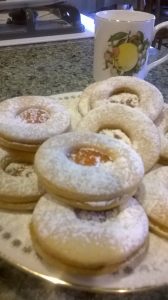 Bon Appetit!