A Chiffon cake is a very light and fluffy cake that's used mostly for celebrations once filled with buttercream or jam. It is a cross between an oil cake and a sponge cake but with a lighter texture that's more like a sponge cake.
I am including many photos so you can watch and master the art of baking and decorating a Chiffon Cake with Italian Buttercream Icing. Chef Dan Boman is demonstrating here the step by step process. Please read the full recipe details before starting your baking.
Ingredients:
2

eggs

2 1/4

cups all purpose flour

1 1/2

cups sugar

2

teaspoons baking powder

1/2

teaspoon salt

1/2

cup milk

1/3

cup vegetable oil

1/2

cup orange juice

1

tablespoon finely shredded orange or lemon peel (optional)

1 teaspoon vanilla
Method:
Separate eggs then allow egg yolks and egg whites to stand at room temperature for 30 minutes. Meanwhile, grease one 9×1-1/2-inch round cake pan and one 8×1-1/2-inch round cake pan. Line bottoms of pans with parchment. Grease the paper. Flour pans, shaking out excess; set aside.
Preheat oven to 350 degrees F. In large mixing bowl stir together flour, 1 cup of the sugar, baking powder, and salt. Add milk and oil. Beat with mixer on low until combined. Add egg yolks, vanilla and orange juice; beat for 1 minute.
Thoroughly wash beaters. In separate large mixing bowl beat egg whites on medium until soft peaks form (tips curl). Gradually add remaining 1/2 cup sugar, beat until stiff peaks form (tips stand straight).
Pour batter in thin stream over beaten egg whites; fold in gently. Fold in orange peel if using. Spoon 3 cups batter into the 9-inch pan and 2 cups batter into 8-inch pan, spreading evenly.
Bake for 25 to 35 minutes, until a toothpick inserted near center comes out clean. Cool completely on wire racks. Remove from pans. Discard parchment. Set aside until ready to frost.
Italian Buttercream Frosting: You need a candy thermometer for this step:
1 cup granulated sugar
1/2 cup water
1/4 teaspoon cream of tartar
Mix the sugar, water and cream of tartar in a pot on your stove; insert candy thermometer on the side of the pot and watch carefully. Simmer until the mixture reaches 225 degrees.
5 large egg whites at room temp
225g unsalted butter/room temp/sliced
1/4 cup sugar
1 teaspoon vanilla
When sugar mixture reaches 225 degrees, start whipping the egg whites for about 1-2 minutes until soft peaks form. Pour in the 1/4 cup sugar and beat until stiff peaks form. Turn your mixer off and wait until the sugar syrup reaches 245 degrees. Turn the mixer back on and start pouring the sugar syrup slowly into the meringue. Try not to hit the sides of the bowl. Beat for 10-12 minutes until the mixer cools to the touch. At this stage, start incorporating the butter, one tablespoon at a time. Continue beating at high speed for a few minutes. Add the vanilla extra. Beat 1-2 minutes more until all the mixture is well incorporated. This buttercream is soft and creamy and you're going to be using it often.
To assemble the cakes:
Place cake on a sheet of parchment paper; trim the top of the cake to make it even and flat by resting your palm over the cake and holding the serrated knife parallel to the cake. Trim another layer and repeat the same process with the other cake. You should end up with 4 layers if using 2 cake pans and 3 layers if using 1 cake pan.
You are ready to frost now:
Place one cake layer on a cake platter and tuck in few small pieces of parchment papers underneath it to keep the platter clean.
Lightly brush loose crumbs off the cake. Place a thin layer of raspberry jam over the first layer without touching the sides .
Place a heaping tablespoon of frosting over the jam and spread it carefully.
Repeat the same process with the remaining layers with jam/frosting/cake.
Frost the sides and the top of the cake with a first thin crumb coating.
Frost again with another layer of frosting and place the cake in the fridge to chill.
When the frosted cake feels hard to the touch, then it's ready for the final frosting.
Place a big dallop of frosting in the center of the cake and spread first over the top, then to the sides.
For a smooth finish: Dip your offset spatula in hot water, shake the excess water off and use it to smooth out the top and sides of the cake.
Put the final touches over the cake ie: edible flours, fruits, chocolate shavings or decorate it like in the pictures.
P.S: If you're using one cake pan only like we did in these pictures, you need to increase the baking time to about 40 minutes or so and test it by inserting a toothpick in the center. In this case, you will end up with 3 layers instead of 4. Watch the pictures as Chef Dan Boman demonstrates how it's done.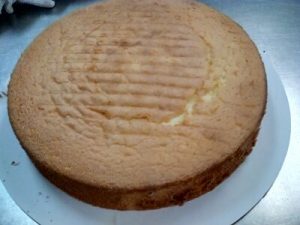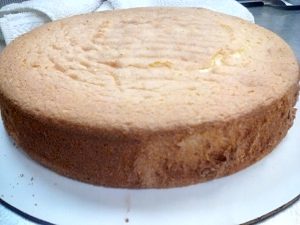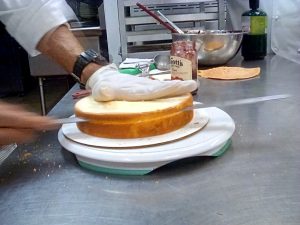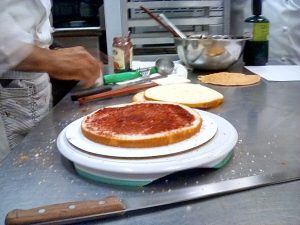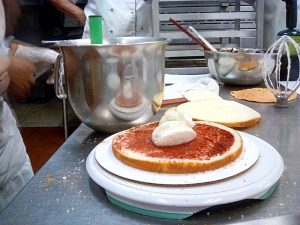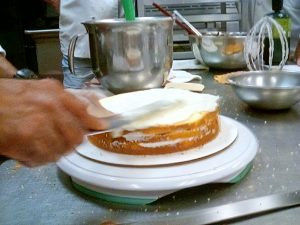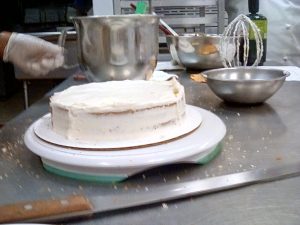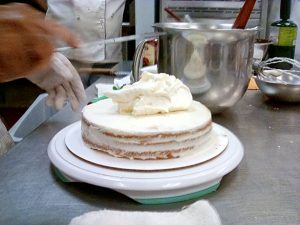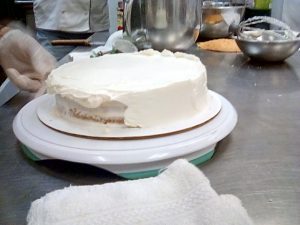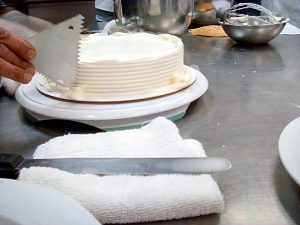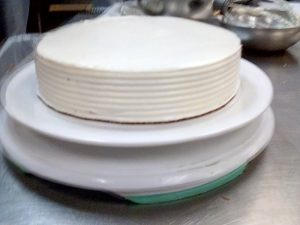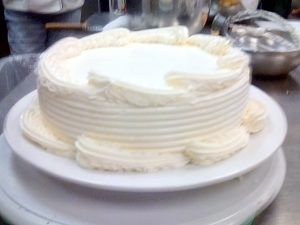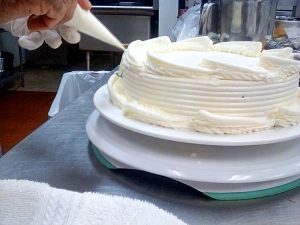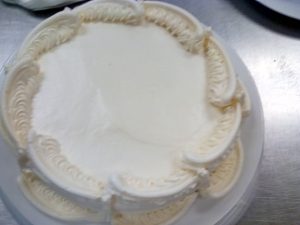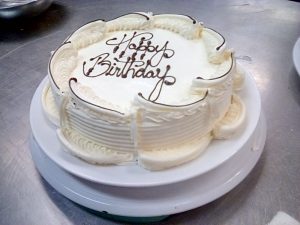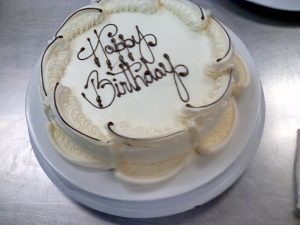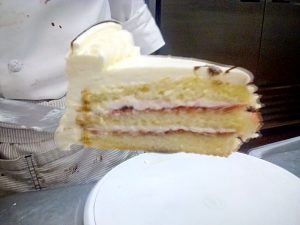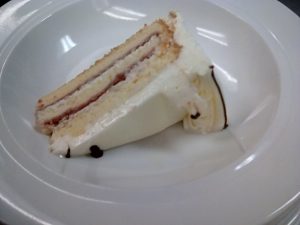 This was my birthday cake that we made in class and shared with everyone. Needless to say that it was delicious, light, crumbly, not too sweet and very yummy 🙂 Make it and enjoy!