Focaccia is an Italian flat bread very similar to pizza doughs. Traditionally, it's topped with cooked onions, cheese, sea salt, sun-dried tomatoes, rosemary, or a variety of vegetables and meats. It can be used for sandwiches, as an antipasto, eaten with soups, an alternative to garlic bread, etc… I usually use onions, olives, sun-dried tomatoes, artichokes, parmesan, and rosemary. You can customize it to your liking. When making Focaccia, keep in mind that you cannot speed up the process in order to have a puffy and light dough. You have to proof your dough and let it rise twice in a warm place before baking.
This recipe yields one-half sheet or 1,400g.
Ingredients:
505 g + 11 grams water (at 95 degrees)
13 g instant yeast
320g flour 1
45g olive oil
50g sugar
450g flour 2
20g salt
1 tablespoon fresh rosemary sprigs
1 teaspoon ground thyme
1 teaspoon dried oregano
Pinch of black pepper
The term flour 1 and flour 2 indicates that flour is added at two different steps in the ingredients mixing sequence. Flour 1 is used to make the yeast paste or a sponge for 45 minutes. Flour 2 is added to the dough last, along with the salt.
Flour 1 and Flour 2 are Bread Flour. Usually, bread flour is designed for yeast baking. King Arthur Flour explained it in dinner roll terms:" Think about how you like your dinner rolls. Do you prefer your rolls soft, supple and tender? All-purpose flour is the way to go. If you prefer your rolls more firm, chewy, and substantial then bread flour would be your go-to bread baking flour". I have seen some Focaccia recipes with all-purpose flour, however, I like the texture better with the bread flour.
Check out this link to make Rosemary Oil:
http://www.wikihow.com/Make-Rosemary-Oil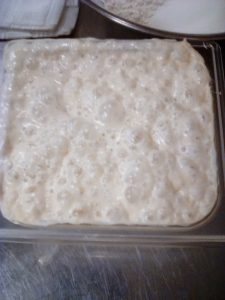 Mix 11g water (water should be at 95 degrees) with 320g flour (flour 1) and 50g sugar to make what we call a sponge. Let it rest at room temperature till you see bubbles forming like the photo above.
Place this dough that you just made in a stand in mixer at speed 2. Add the remaining ingredients except for the oil. It takes on average 7-10 minutes for the dough to form and get smooth before we add the oil gradually.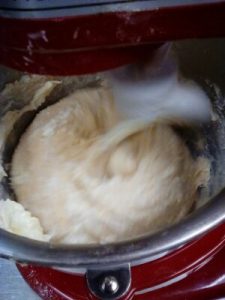 Once all the ingredients are mixed in and you have a smooth dough, place it in a well-oiled sheet pan with the already prepared rosemary oil with sprigs in it, (check out the link above). Using soft strokes with the palm of your hand, start pushing the dough towards the edges of the pan like the pictures below. As you can see that the rosemary sprigs are quite obvious in the dough.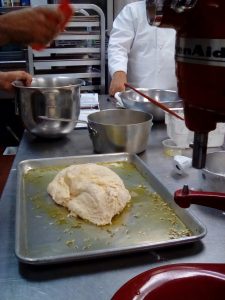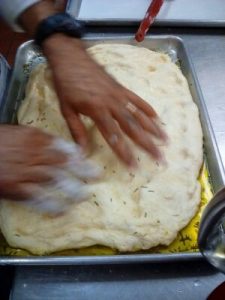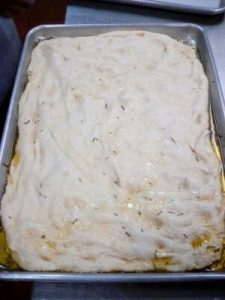 Let the dough rest for 30 minutes in a warm oven (oven should be turned off) by placing a pan filled with hot water on one oven shelf and placing the dough pan on the shelf above it. This is the first rise. After 30 minutes and with oiled hands, gently stretch the dough to touch all the sides of the sheet pan. Now, you can add the toppings of your choice i.e: olives, cooked onions and mushrooms, julienned red bell peppers, etc… Then place the sheet pan in the warm oven like you had done earlier and let it rise a second time with all the toppings on it except the cheese that you will add later.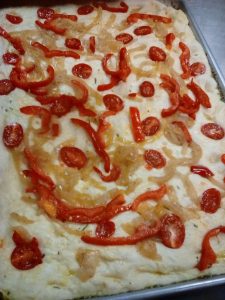 This is what it will look like after the second rise. If you don't let your Focaccia proof a second time, the dough will be dense. The texture of a baked Focaccia should be light and airy. Do not allow the dough to over rise, (in other words, to rise so high that it sinks back down on itself) and ferment. Set a timer so that you don't forget to check on it. Light dough rises quickly so be careful.
Place the Focaccia in a 425 degrees preheated oven. Half way through the baking (10 minutes), sprinkle it with sea salt and the cheese of your choice and bake until it's golden and yummy!!!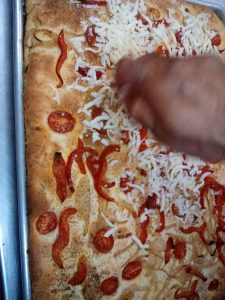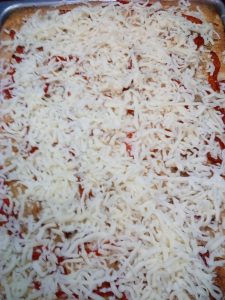 Don't get overwhelmed with the various steps to make Focaccia. If you follow all the steps and don't rush the process, you will be rewarded for your effort by your friends and family who will devour your hard work!
Bon Appetit
Save