Sundays are usually very busy days for me in the kitchen and today was no different. I wanted to make something special for my daughter Zeina who loves vegetarian and light meals. I ended up with this delicious recipe of fresh herbs from my garden, tomatoes, small zucchinis, parmesan and basmati rice to make Zucchini Boats.
This recipe is easy and fast and can be prepared ahead of time. You can serve it over couscous, white rice or just plain by itself.
Ingredients:
10 small zucchinis
1/2 cup basmati rice
1/2 cup fresh lemon juice
1/3 cup extra virgin olive oil
Bunch of mint, thyme, basil, parsley, chopped
3 fresh tomatoes, diced
Salt, black pepper, cayenne pepper, onion powder to taste
1/2 cup parmesan cheese (topping)
Method:
Wash the zucchinis, remove the tops and set aside.
Place a pot of 3 cups boiling water on the stove, add the rice and boil for 15 minutes, drain. Set aside.
Blanch the zucchinis by placing them in a large stock pot of salted boiling water for about 5 minutes.
Drain and shock the zucchinis in a bowl of ice water to stop from overcooking.
Cut them in half and, with a teaspoon, scoop out the flesh of the zucchinis so they resemble boats.
Place them in a 4.5 qt casserole dish that you sprayed with olive oil spray. Set aside.
In a bowl, mix the chopped thyme, mint, basil, parsley, tomatoes and semi-cooked rice.
Add lemon juice, olive oil, salt, onion powder and peppers to taste.
Spoon in and mounds this mixture into the zucchini boats.
Top with parmesan cheese.
You can add green peppers and grape tomatoes for extra flavoring. (optional)
Cover the baking dish with aluminum foil and bake for 20 minutes in a preheated 400 degrees F oven or until golden on top.
Bon Appetit!
P.S: I find it easier to core the zucchinis first then cut them in half. You can use a zucchini corer to help you with this task.
For the recipe below, I had about 1/2 cup of the zucchini boats filling left that I added to the zucchini flesh (inside of the zucchinis) and cooked by placing 3 tablespoons olive oil in a pot, adding 1 chopped onion, the zucchini flesh, lemon juice, garlic powder, salt, and pepper (to taste). Cover and cook for 15 minutes over low heat. Once done, you can add chopped mint and fresh green onion.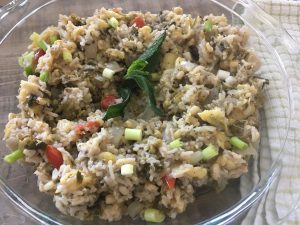 Save