Adas bi hamod as we refer to it in Lebanon is a great vegetarian soup. It's a traditional soup that can be served as a main dish or a first course. The Swiss chard is full of nutrients, iron, fiber, protein and vitamins. It is an excellent source of vitamins C,E and K (is especially beneficial for bone health). Chard is also a good source of many other nutrients including vitamin B6, protein, calcium, thiamine, zinc and folic acid.
I deviated a bit from the original recipe to make this my version and I really liked the outcome. I added mint and omitted the diced potatoes and cilantro. I found that mint and lemon juice gave it a fresher and tastier flavor. Hope you will give it a try.
Ingredients:
1 cup

dried lentil

2 bunches Swiss chard
7 cups water
3 diced onions
5 cloves garlic, chopped
1/2 cup fresh lemon juice
1/2 teaspoon cumin
3/4 cup olive oil
1 teaspoon salt
1 teaspoon all purpose flour
1/4 cup fresh mint, chopped
Cayenne pepper, optional
Method:
Wash the lentils well and place in a pot.
Add 7 cups hot water to the pot and boil over medium heat.
Cover and cook for 15 minutes.
In the meantime, wash the Swiss chard well, coarsely chop leaves and stems. Set aside.
In a different pot, cook the onions and garlic in olive oil until fragrant and translucent.
Add to the cooked lentils, salt, pepper, cumin, chopped mint, Swiss chard. Cover.
Mix lemon juice with 1 teaspoon flour and add to the mixture.
Cook for 5 minutes and turn heat off.
Adjust lemon juice and salt to your liking.
Drizzle extra virgin olive oil and lemon juice before serving.
This soup can be served hot or at room temperature.
Enjoy!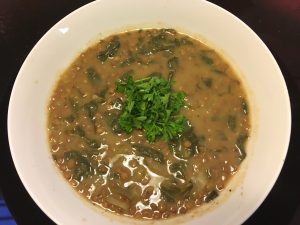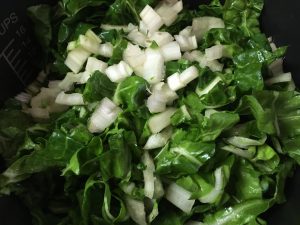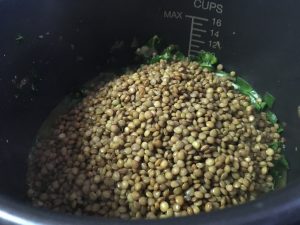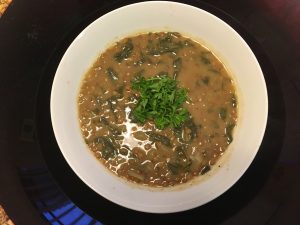 Save
Save
Save
Save
Save