Today, the weather outside looks and feels like a typical winter day with rain and wind. Days like this, especially if it's American football day, nothing feels better than being lazy and having something light, fast, and healthy like this spicy vegetable soup to warm up the dampened spirits. You can adjust the heat and spice up to your liking!
Ingredients:
1 cup red lentils, picked over and rinsed
2 cups chopped fresh zucchini
1 chopped onion
1/2 green pepper, chopped
3 garlic cloves, chopped
1 cup chopped kale salad mixture
1 cup sweet corn
1 teaspoon curry powder
Dash of cayenne pepper
1 lemon juiced
8 cups vegetable broth
3 tablespoons olive oil
Salt and pepper, to taste
2 sprigs of chopped thyme for garnish
Method:
Heat oil in a pot over medium heat.
Add onion, garlic, green pepper and sauté for 2 minutes.
Add the chopped kale salad mixture, lentils, salt, pepper, corn, curry powder and mix well.
Add the vegetable broth and bring to a boil.
Drop the chopped zucchini and continue boiling the soup over low heat.
Simmer uncovered for 15-20 minutes (until lentils are cooked).
Move soup off heat and add the lemon juice and chopped thyme.
Serve with crusted french bread and enjoy!
Bon Appetit!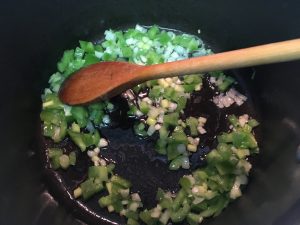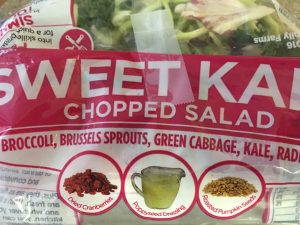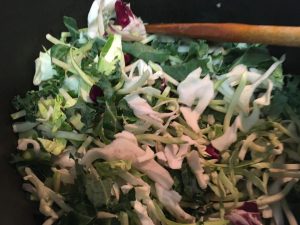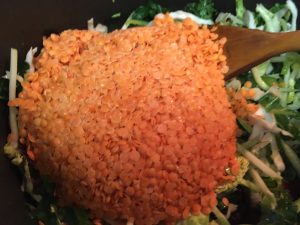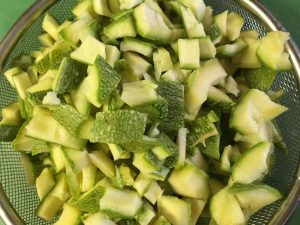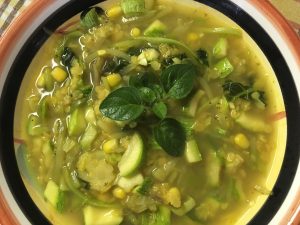 P.S: You can buy the chopped kale salad in a bag in any supermarket in the USA otherwise, chop 1/2 cup each of chopped broccoli, Brussels sprouts, green cabbage, kale and radishes.
Save